The Lumenier ELITE PRO 60A 2-6S BLHeli_32 4-in-1 ESC. A powerful ESC with the latest BLHeli_32 + telemetry and current sensor and capable of 60A current support on up to 6s! If you're looking for maximum power and performance for your drone, this is the ESC for you. 
The dual heatsink design provides improved heat dissipation making this ESC a perfect choice for high power needs found in Cinelifters, large drones and high performance racing drones.
The Lumenier ELITE PRO 60A 2-6S BLHeli_32 4-in-1 ESC is a 32bit ESC running the latest gen. BLHeli_32 firmware. The 32bit architecture enables the ESC to run at incredible speeds resulting in better performance, faster input signals and lower latency compared to older 8bit ESCs. This ESC also features a live telemetry connection for more advanced flight controllers, as well as a top of the line current sensor. 
One of the biggest features of this ESC is the heavy duty copper traces which can support extreme current. The ESC PCB is 2mm thick where most others are only 1.5mm. More copper along with the included double aluminum heatsink allows you to push more power to your drone.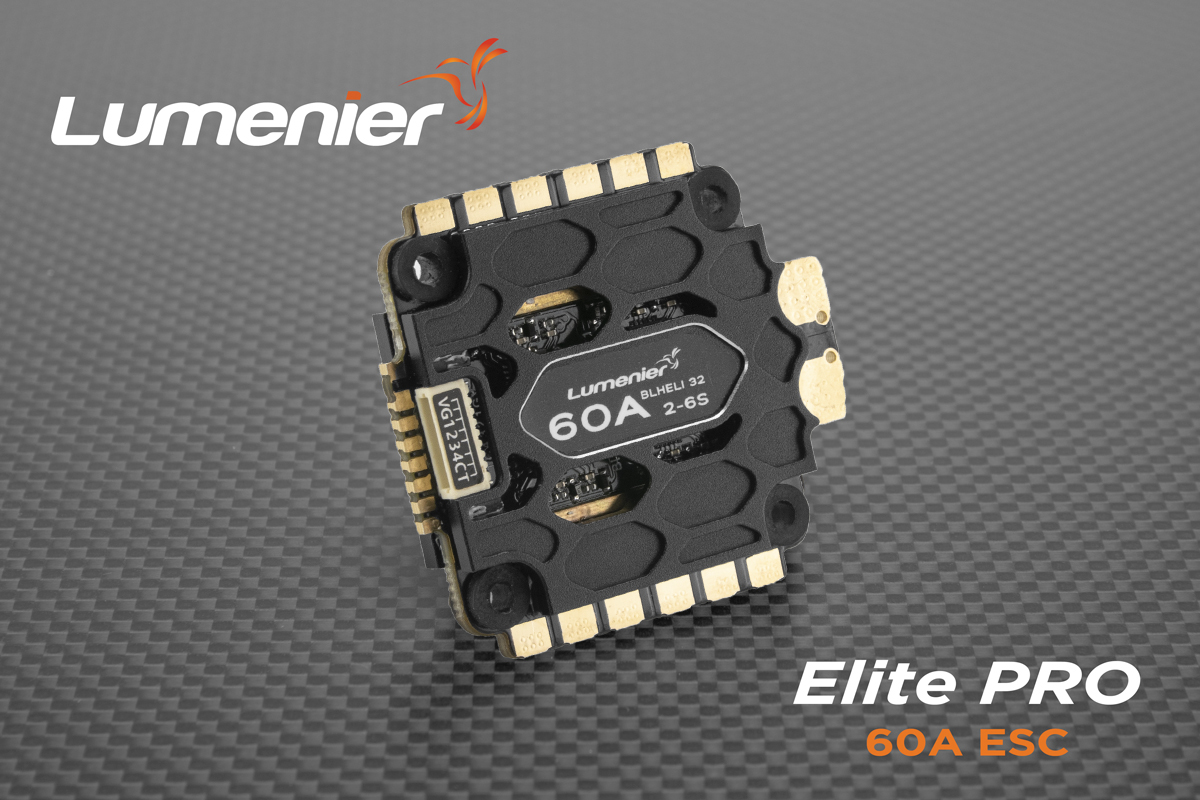 Benefits of BLHeli_32 Firmware on 32-bit ESC
32bit processors run faster than 8bit, at which we can expect better performance from the new 32bit ESC's. Faster input signals with lower latency and higher update rate would be possible, such as Dshot1200 or even faster protocols! (Read about DSHOT) (Read about DSHOT1200)
The 32-bit platform also allows more functionality and features that simply wasn't possible on 8bit ESC's, such as
Programmable PWM frequency
Auto-timing for higher efficiency and reliability
Voltage/Current limiting
Adjustable "Brake on Stop" force
Improve direction change in Bidirectional mode
ESC Telemetry
RGB LED control
Configuring from FC using DShot commands
Note: Not all of these features have been implemented yet, some are still in development.
Features
Latest Gen. firmware using BLHeli_32
Supports DSHOT 1200/600, Proshot, Oneshot125 (125-250us), Oneshot42(41.7-83.3us) and Multishot (5-25us). Auto-detection
Dual Heatsinks for improved cooling
Lightweight (27g), including dual-sided heatsink
Adaptive timing, compatible with a wide range of motors and Kv
Synchronous rectification technology adds efficiency, damped light
Powerful regenerative braking / active braking.
2-6s LiPo battery compatible
Run 2x of these 4in1 ESC for an X8 Cinelifter
Specs
Input: 2-6S LiPoly
Constant: 60 Amps
Burst: 100 Amps
Dimensions: 43x46x9mm (includes heatsink)
Mounting holes: 30.5x30.5 
Weight: 27g
Downloads
Includes
1 x Lumenier ELITE PRO 60A 2-6S BLHeli_32 4-in-1 ESC
1 x 35V 470uF Capacitor
1 x 8pin to single connector breakout cable
1 x 8pin to 8pin jst-sh cable