The Lumenier ELITE PRO 100A 12S BLHeli_32 4-in-1 ESC is a powerful ESC with the latest BLHeli_32 + telemetry and current sensor capable of 100A constant current and up to 12S (52V) input. The CNC aluminum heatsink provides excellent cooling required for high-power setups often required in Cinema and heavy lift drones. The 4-in-1 design simplifies the installation allowing for 4x ESCs all on 1 board with a simple plug and play cable to connect to your flight controller and BLHeli_32 passthrough for easy programming and firmware updates. If you're looking for maximum power and performance for your drone, this is the ESC for you.
WARNING: The onboard BEC on the ESC that is meant to power the flight controller via the 8 pin connector has had reports of voltage drops. Do not use the ESC's BEC to power your flight controller or other electronics, instead power your flight controller directly from the battery power, or via a stand-alone BEC.
The ESC functionality works as long as you don't use the onbboard BEC.

Features
Supports Dshot300, Dshot600, Dshot1200, MultiShot, OneShot, and normal PPM 1-2us
The one-sided Mosfet design reduces noise and provides better heat dissipation
Superb PCB circuit design and 8oz thick copper ensures high-current capability
Cortex M4 32-bit processor runs with 120M Hz frequency
High-voltage low resistance 100V, 1.5mΩ Mosfet
30.5x30.5m and 86x66mm Mounting Patterns
Supports High Demag Compensation
12S High-voltage support (52V)
Supports Bidirectional + Dshot
Optimized BLHeli_32 Firmware
Supports PWM 8-48kHz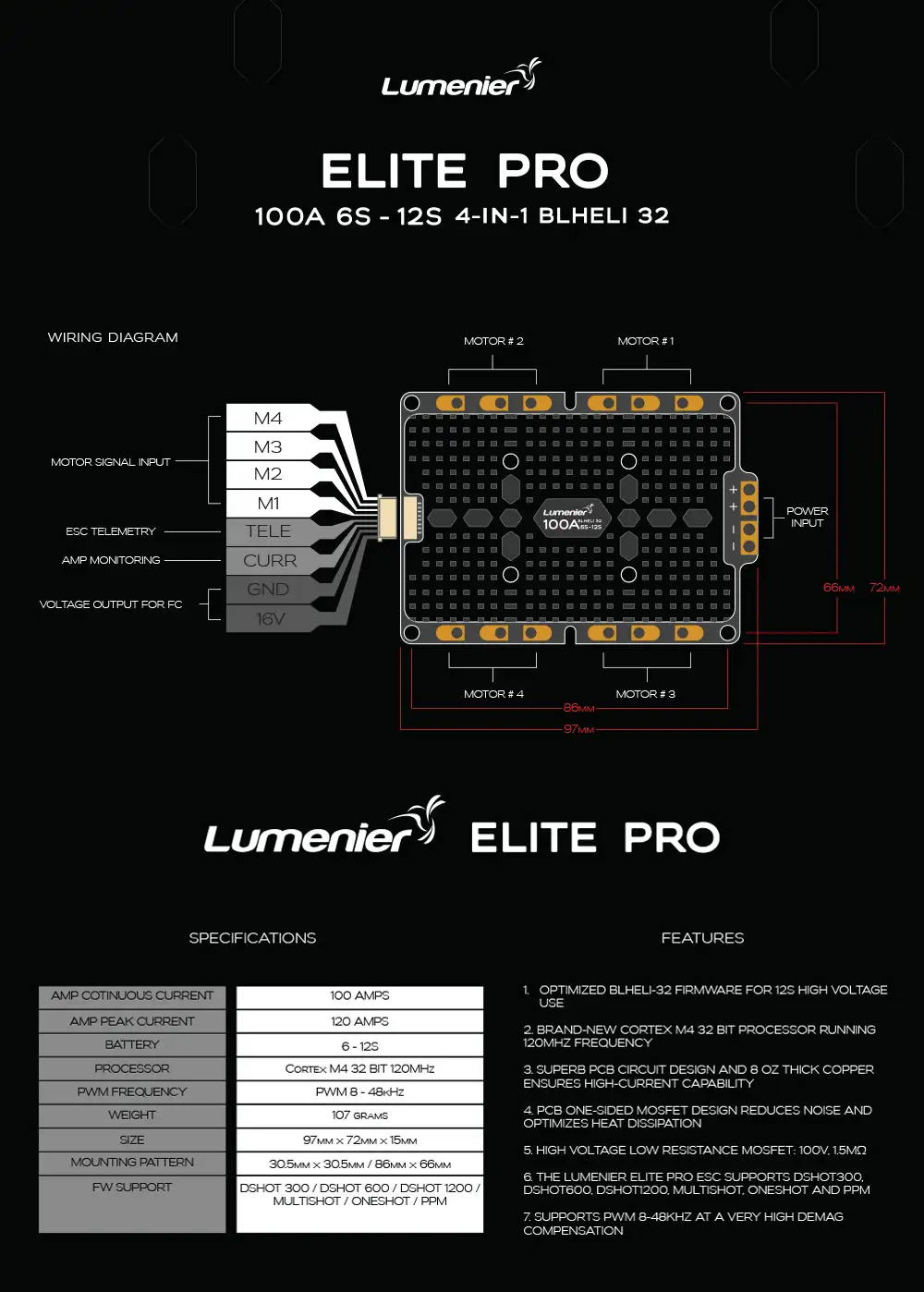 HIGH PERFORMANCE CUSTOM HEATSINK
The custom heatsink design provides improved heat dissipation making this ESC a perfect choice for high power needs found in Cinelifters, large drones, and high-performance racing drones. The heatsink effectively cools the ESC allowing for reliable operation even in challenging environments.
BLHELI_32 FIRMWARE AND LIVE TELEMETRY
The Lumenier ELITE PRO 100A 12S BLHeli_32 4-in-1 ESC is a 32-bit ESC running the latest generation BLHeli_32 firmware. The 32-bit architecture enables the ESC to run at incredible speeds resulting in better performance, faster input signals, and lower latency compared to older 8-bit ESCs. This ESC also features a live telemetry connection for more advanced flight controllers, as well as a top-of-the-line current sensor.
One of the biggest features of this ESC is the heavy-duty copper traces (8oz) which can support extreme current. Additionally, the ESC PCB is 2mm thick and layered on a 2nd PCB of 1mm for a total of 3mm. More copper along with the included aluminum heatsink allows you to push more power to your drone.
BENEFITS OF BLHELI_32 FIRMWARE ON 32-BIT ESC
32-bit processors run faster than 8-bit, at which we can expect better performance from the new 32-bit ESCs. Faster input signals with lower latency and higher update rate would be possible, such as Dshot1200 or even faster protocols! (Read about DSHOT) (Read about DSHOT1200)
The 32-bit platform also allows more functionality and features that simply weren't possible on 8bit ESCs, such as:
Improved direction change in the Bidirectional mode
Auto-timing for higher efficiency and reliability
Configuring from FC using DShot commands
Adjustable "Brake on Stop" force
Programmable PWM frequency
Voltage/Current limiting
RGB LED control
ESC Telemetry
Specifications
Supports: Dshot300, Dshot600, Dshot1200, MultiShot, OneShot, and normal PPM 1-2us.
Mounting Patterns: 30.5x30.5m / 86x66mm
Processor: Cortex M4 32-Bit 120Hz
Dimensions: 97mmx72mmx15mm
Continuous Current: 100A
Peak Current: 120A
Supports: PWM 8-48kHz
Firmware: BLHeli_32
Mosfet: 100V, 1.5mΩ
Voltage: 6-12S
Weight: 107g
Links
Download the latest BLHeli_32 Configurator HERE.
Download the BLHeli_32 User Manual HERE.
Includes
1x Lumenier ELITE PRO 100A 6-12S BLHeli_32 4-in-1 ESC
2x 8pin to Single-Connector Breakout Cable
1x 10AWG 200°C Wire - Black
1x 10AWG 200°C Wire - Red
2x 8pin to 8pin JST-SH cable
1x 63V 1800uF Capacitor
5x M3 Rubber Grommets
1x Plastic Hardware set (M3 spacers, screws, nuts)